GPZ Engineers Pvt. Ltd. provides a versatile solutions in Sheet Metal Fabrication while possessing expertise in Control Panel Enclosure, Modular MCC/PCC/PLC Panel Enclosure, Junction Box, Terminal Box, Electronic Equipment Housing, EV Power Distribution Unit (PDU), Distributions Boards, Battery Racks, Controller Pendant, Control Station, Controller PC Enclosure, Operator Station, Outdoor Enclosures / Canopies, Control Room Enclosures, PC Enclosures, Generator / Gas Skid Canopies, Server Rack, Switch Box and many more related applications.
Our proven design ensures IP 55 and above degree of protection for control panels & up to IP 67 for junction box like products to suit customer needs.
GPZ provides design and fabrication of wide range of enclosures in MSCRCA, G.I. and Stainless Steel depending upon customer requirement. Our customized solution & innovative designs comply specified end user specification, international regulations and set standards.
We are team of subject industry expert engineers, where excellence is not just word but a habit. Our parent organisation Prescient Automation, founded in 2010, focusing main aim to help the customer with innovative customized solution and efficient ways, through the delivery of our effective and timely products and services in considerable economic ways.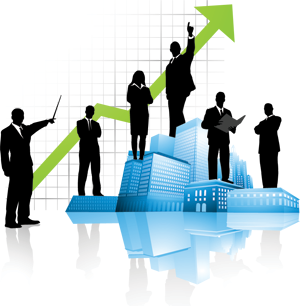 GPZ, where technology and engineering come together to create solutions for the benefit of our customers, driven without compromise for a world in action.
We have successfully demonstrated supply chain solution and provided timely delivery of 1000 AMF panels per month to our esteemed client.
With dedicated manpower for supply chain works and assembly line and round "o" clock operation we can tackle supply chain needs of Electric Genset Manufacturer, Solar Plant, EPC Major's, Oil & Gas Clients, Crane Builders, SPM Manufacturers, Export Agents, City & Infrastructure Development Companies.
GPZ has developed a Quality Management System confirming to the requirements of ISO 9001:2015 International standard that has been effectively implemented, monitored & measured to achieve Continual Improvement.
In addition to this we have successfully acquired CE certification for our enclosures whereby we ensures our products meets or exceeds requirement outlined by European customers. This will help our end user to acquire CE certificate for their final product.
Certification :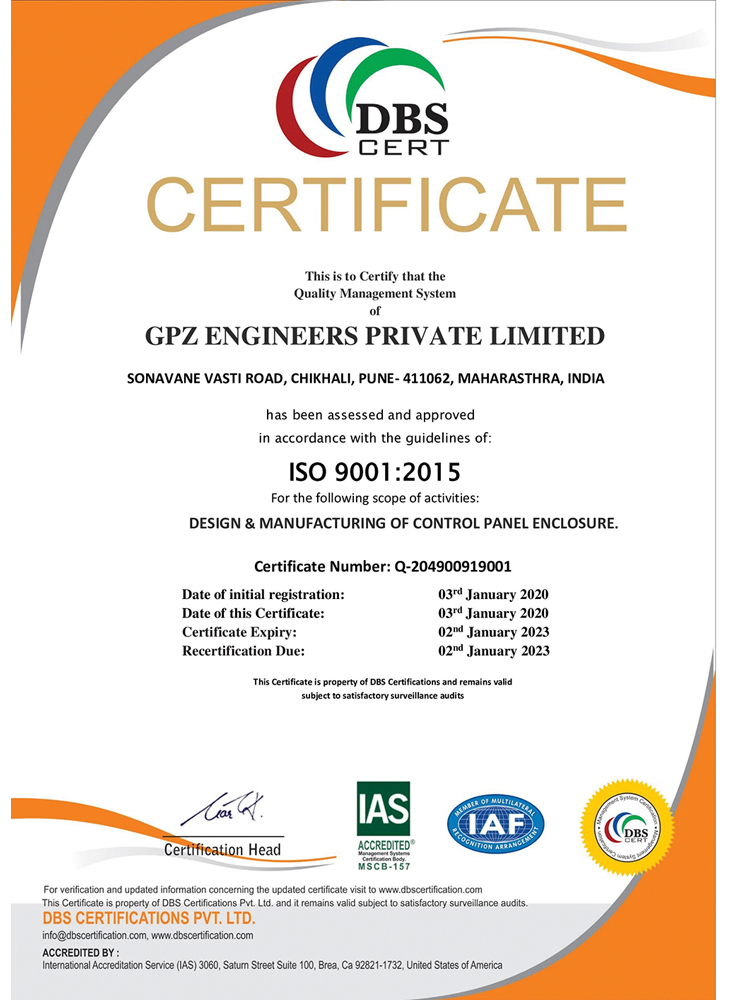 ISO 9001:2015 Certficate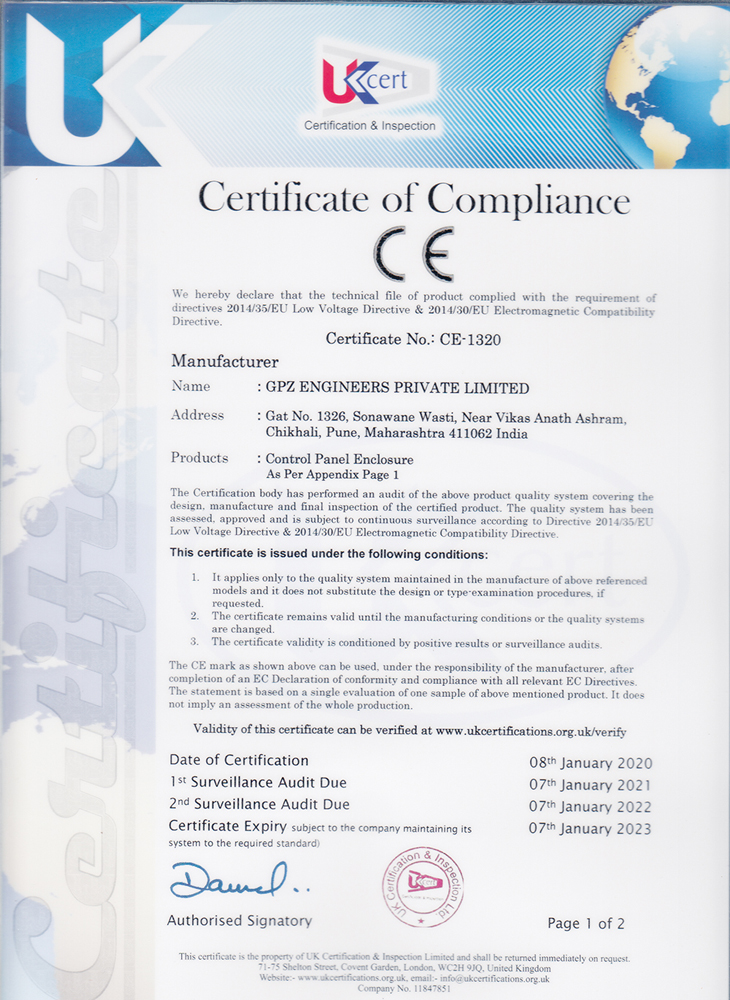 CE Certficate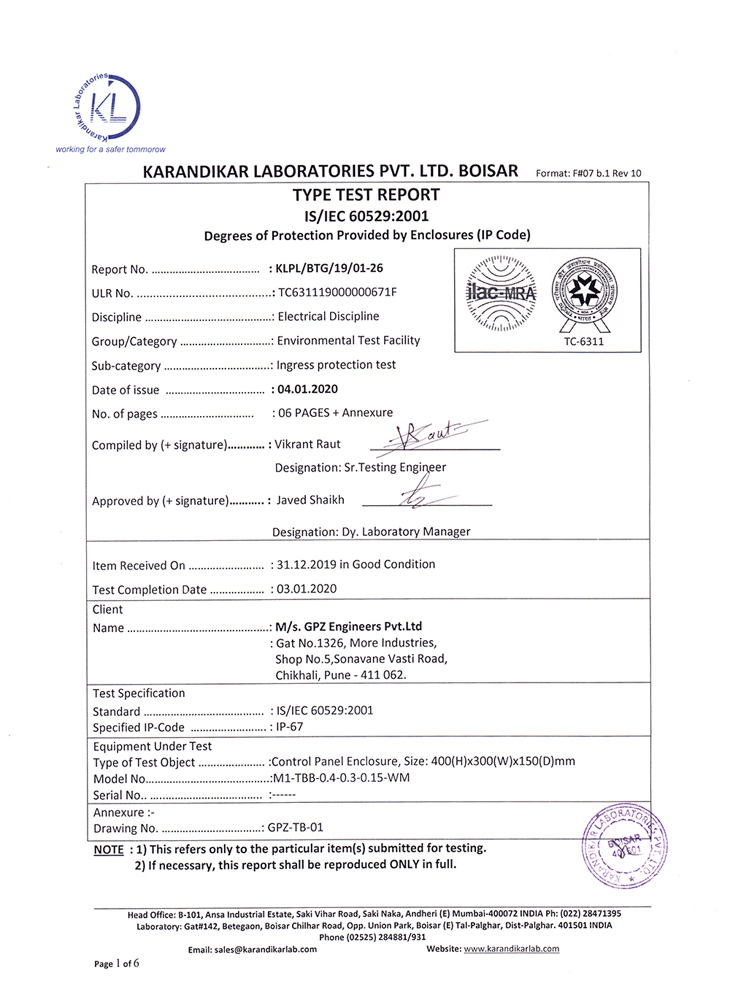 TBB-IP 67 Certficate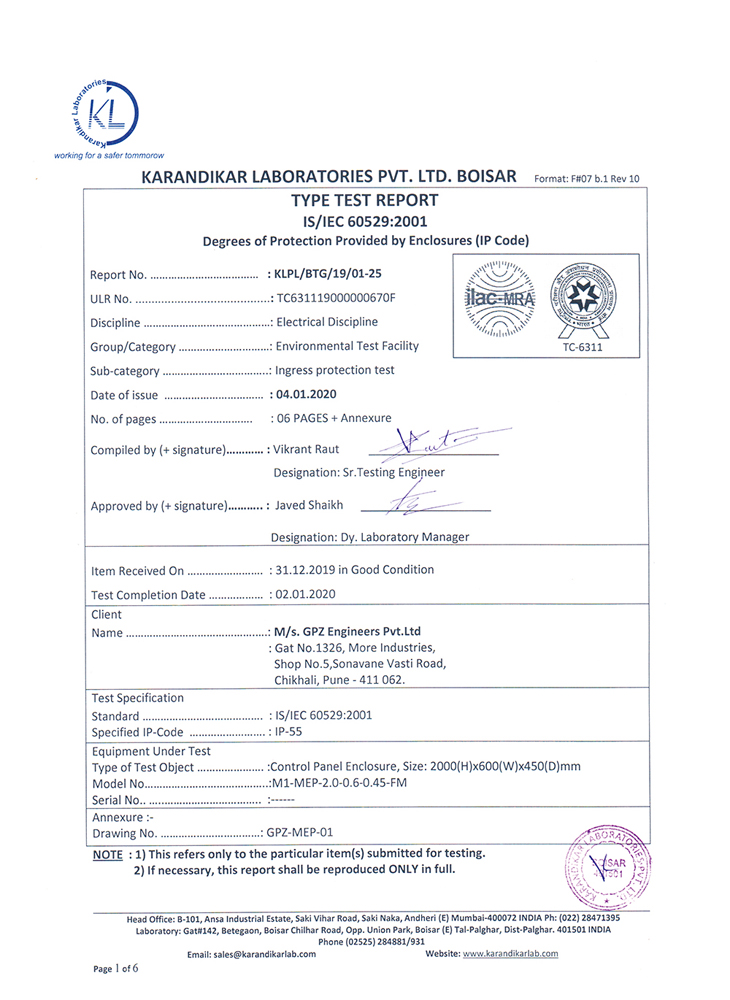 MEP-IP 55 Certficate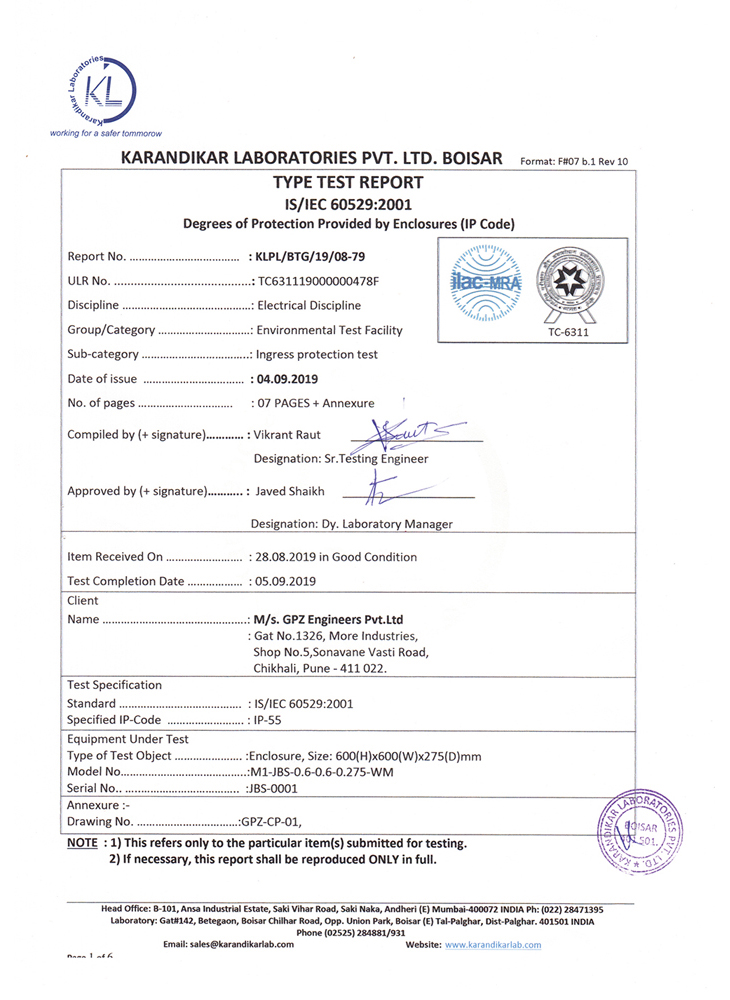 CPS/CPD-IP 55 Certficate